Axumin PET Scans and Recurrent Prostate Cancer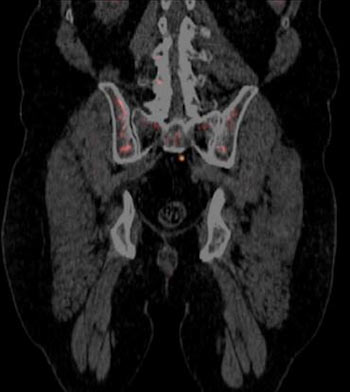 PET scan with Blue Earth's Axumin radiopharmaceutical. Image courtesy of Blue Earth Diagnostics.
Axumin™ (Fluciclovine F18) is a new FDA-approved, Medicare-covered diagnostic agent that can achieve early detection of recurrent prostate cancer. Axumin is indicated for positron emission tomography (PET) imaging in men with suspected prostate cancer recurrence based on elevated PSA levels following prior treatment. Conventional CT and nuclear medicine bone scans have limited sensitivity, especially in patients with low PSA levels (less than 10 ng/ml). Until now the only advanced alternatives have been costly agents with limited availability such as C11 choline. Axumin is a synthetic amino acid analogue which gets taken up by prostate cancer cells through amino acid transporters. It is bound to F18, which allows for greater ease of use and availability than C11. FDA approval of Axumin included a trial showing it to perform as well, if not better, than C11 choline scans in patients with median PSA values of 1.44 ng/mL, well below the levels in which conventional imaging is useful. As Axumin images bone and soft tissue disease it may allow us to forgo the traditional CT and bone scans in favor of this one exam, imaging all sites of disease in less than 45 minutes with no significant side effects for patients.
Axumin's proven and cost-effective technology offers the possibility of detecting small local recurrences and metastases with PSA levels of less than 10 ng/ml and often much lower. Combine that with SMIL's highly experienced subspecialized radiologists and Axumin holds the promise of taking prostate cancer imaging to a new level with better results and a better patient experience.
REFERENCES:
Nanni C, Schiavina R, et al. 18F-Fluciclovine PET/CT for the Detection of Prostate Cancer Relapse: A Comparison to 11C-Choline PET/CT. Clin Nucl Med. 2015 Aug; 40(8):e386-91
Bach-Gansmo T, Nanni C, et al. Multisite Experience of the Safety, Detection Rate and Diagnostic Performance of Fluciclovine (18F) Positron Emission Tomography/Computerized Tomography Imaging in the Staging of Biochemically Recurrent Prostate Cancer. J Urol. 2017 Mar; 197(3 Pt 1):676-683