Lung Cancer Screening Recommendations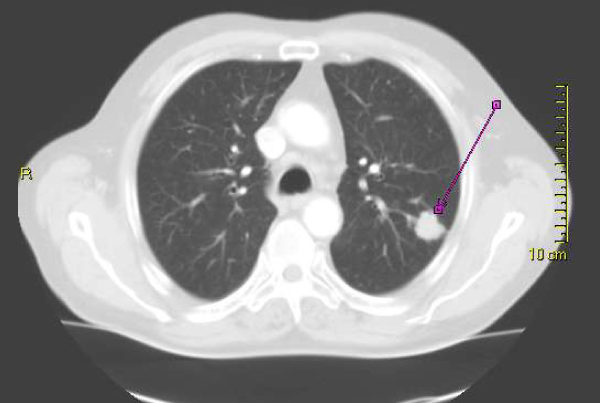 In a review of four large lung cancer screening trials for the U.S. Preventive Services Task Force, researchers recently concluded that low-dose CT (LDCT) screening can reduce lung cancer deaths.
Their conclusion was primarily driven by the National Lung Screening Trial (NLST) that was stopped early when lung cancer mortality was reduced by 20 percent in the LDCT group.
Based on those findings, the National Comprehensive Cancer Network (NCCN) developed guidelines for LDCT screening programs that include criteria for patient selection, dose acquisition, image storage, interpretation and an algorithm for evaluating and following up detected nodules. Christopher J. Salmon, MD, chest radiology specialist at Scottsdale Medical Imaging (SMIL) says they are in the planning stages of developing a program for lung cancer CT screening. The group
will be using guidelines based on those developed by NCCN, which they consider reasonable for the Scottsdale population.
"Despite a somewhat higher incidence of false positive nodules from Coccidioidomycosis endemic to Scottsdale and the East Valley," Salmon says, "we still anticipate significant benefit from CT screening for lung cancer in select high risk patients." In general, Salmon says SMIL will recommend limiting patient eligibility to those at highest risk, as described by the NLST and adopted by the NCCN, i.e. smokers or former smokers who quit less than 15 years ago, ages 55 to 74 years.
Following initial scans, Salmon says suspicious or indeterminate nodule evaluation will likely include follow-up CT for small nodules, possibly PET for larger nodules, and in a small number of cases, they likely will recommend biopsy. The guidelines from the NCCN, American College of Chest Physicians and American Society of Clinical Oncology all recommend that only centers with considerable expertise in lung cancer screening should do LDCT programs. Salmon says that SMIL is distinguished in the number of radiologists with advanced training.
"What sets SMIL apart from many other imaging centers," Salmon says, "is the quality of our reads. We can offer highly specialized interpretation of the lung screening studies by radiologists fellowship-trained in chest and body imaging."
Reference:
Humphrey Linda, Deffebach Mark, Pappas Miranda. Screening for lung cancer with low-dose
computed tomography: A systematic review to update the U.S. Preventive Services Task Force
recommendation. Annals of Internal Medicine. 2013;159(6):411-420