Individualizing Breast Cancer Screenings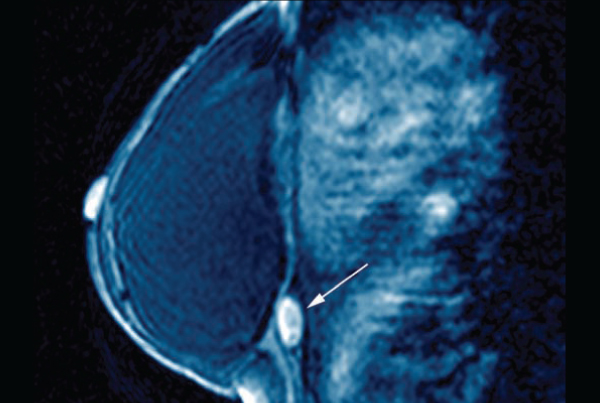 Recent study suggests adding MRI to mammography may be appropriate for select populations, although not all patients
The dilemma primary care physicians and specialists face on the issue of screening for patients at intermediate to high risk for breast cancer is explored in a recent study published in the Journal of the American Medical Association.
The study examined supplemental ultrasound and MRI screening in 2,809 women at high risk for breast cancer enrolled at 21 sites between April 2004 and February 2006.
In a substudy, 612 participants who had completed the third round of annual ultrasound and mammography screenings agreed to undergo a contrast-enhanced breast MRI within eight weeks of the 24-month screening mammogram.
Among this subgroup, 16 (2.6 percent) were diagnosed with cancer, and 12 (75 percent) of those cases were invasive cancers. Of these, nine were missed by mammography and ultrasound, only detected by MRI, and eight of those were invasive.
On the downside, among these 612 participants, 38 (6.2 percent) had a biopsy after mammography and ultrasound, and 43 more underwent biopsy after adding MRI, thereby increasing the biopsy rate to 13.2 percent.
While adding MRI screening increased cancer detection by an absolute 56 percent, it also increased the biopsy rate significantly versus mammography and ultrasound.
"This is not an unexpected result, as typically all screening tests face a trade-off between sensitivity and specificity," says Daniel Maki, M.D., chair of the women's imaging committee at Scottsdale Medical Imaging. "While this trade-off would not be acceptable for most patients in low-, or perhaps even moderate-risk populations, in high-risk populations, many—maybe most—physicians and patients are likely to find this an acceptable trade-off."
PATIENT-PHYSICIAN CONVERSATION CRUCIAL
The results emphasize a need for patient-physician discussion of individual risk as key to decision making in screening these patients, Maki says. In his experience, when patients with high risk fully understand the risks of additional screening, most are willing to accept increased chance of a false positive in order to catch any potential early cancer.
The study authors concluded that adding MRI may be highly valuable in select patients, particularly high-risk groups, although perhaps not appropriate for low- to intermediate-risk patients. •