New Recommendations for Thyroid Cancer Treatment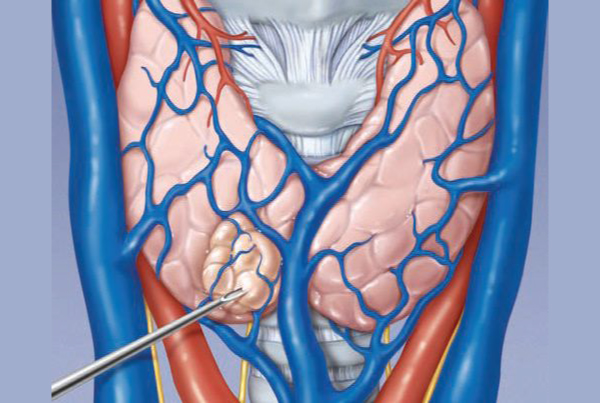 Lower dose radioiodine found to be just as effective
In a study published in the New England Journal of Medicine earlier this year, researchers concluded that low-dose radioiodine plus thyrotropin alfa postthyroidectomy was as effective as high-dose radioiodine for remnant ablation in patients with T1 to T3 thyroid cancer without metastasis. The low-dose treatment resulted in a lower rate of adverse events.
Ronald Korn, M.D., Ph.D., director of PET research at Scottsdale Medical Imaging Ltd. (SMIL), says this paper is a landmark in thyroid cancer treatment. "Our standard treatment for thyroid cancer uses about 150 millicuries of iodine, and this study shows no clear advantage for that over 30 millicuries. You can lower the dose fivefold, decrease radiation exposure and side effects, and get equal outcomes," Korn says.
Korn adds that determining the correct dose depends on accurate staging and risk stratification. There are cases when you may consider a higher dose, and in such cases, SPECT-CT is unparalleled for detecting small areas of disease to help decide which patients would benefit most from lower doses.
John Millstine, M.D., director of clinical nuclear medicine at SMIL, says that in these cases SPECTCT is particularly useful for clarifying stage.
"Planar post-therapy scans occasionally show foci of activity that are difficult to characterize," Millstine says. "These findings are frequently remote from the thyroid bed and would often upstage the patient, if shown to represent metastases. The SPECT-CT allows us to characterize these sites and accurately stage the patient's disease." •