Ultrasound Imaging for Evaluating Thyroid Nodules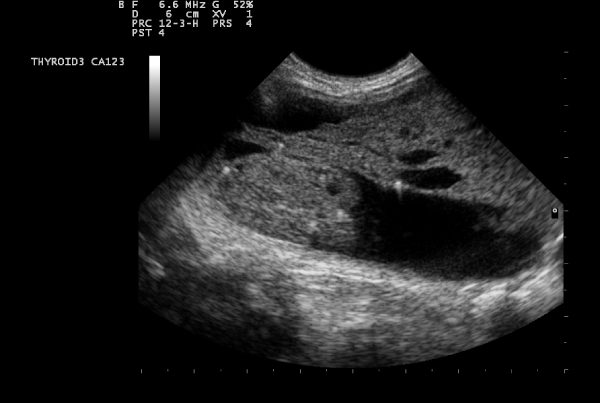 QUESTION: What are SMIL's guidelines for performing a thyroid biopsy after an ultrasound?
ANSWER: Thyroid nodules are common, with palpable nodules found in 4 percent to 7 percent of the adult U.S. population, and solitary or multiple nodules found at much higher rates with ultrasound screening. While about 95 percent of these are benign, there is wide variation in their management, and determining which should be referred for biopsy remains a challenge.
Scottsdale Medical Imaging (SMIL) adheres to the guidelines of the 2005 Society of Radiologists in Ultrasound Consensus Conference, according to Chad Palmer, MD, a SMIL radiologist who specializes in thyroid imaging.
"Normally if a nodule has no worrisome features and it is solid, we will normally recommend it for biopsy at around 1.5 cm," Palmer says.
SMIL has established a subgroup of radiologists who specialize in thyroid imaging, which Palmer says adds a high degree of consistency in terms of reports and biopsy results. This subgroup of SMIL radiologists performs 20 to 30 thyroid nodule biopsies a week and 25 to 40 diagnostic thyroid ultrasounds a day.
"As a result, we have a core group of radiologists who do a lot of thyroid biopsies and, like anything, the more you do, the better you get," he says.
Five years ago, the group adopted additional protocols to decrease nondiagnostic rates, or the number of biopsies that are inconclusive on pathology. At that time, SMIL's diagnostic rate for thyroid nodules was close to the national average of 17 to 20 percent.
"One of the things we did was to take more samples, as that increases the odds that one or more samples will yield a diagnostic result," Palmer says. "We also changed how we process the samples- some are now dipped in a Carnoy's solution to reduce blood contamination. As a result, SMIL's non-diagnostic biopsy rate over the past year is 12 percent." •
REFERENCE:
Current trends in the practice of medicine. Mayo Clinic Clinical Update. 2011;27(1):1-2.