New Imaging Options for Head and Neck Cancer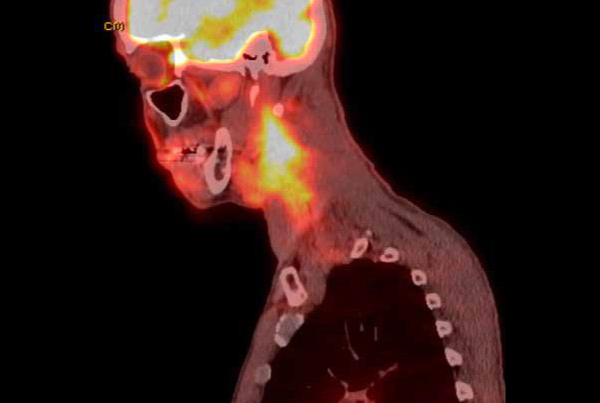 Positron emission tomography-computed tomography assists in organ-preserving treatment
The management of head and neck cancers has been transformed in all phases from diagnosis to staging, radiation treatment planning and response evaluation with the adoption of fluorine 18 fluorodeoxyglucose (FDG) positron emission tomography-computed tomography (PET/CT).
PET/CT has dramatically changed the primary treatment from surgery to organ-sparing approaches, says Nishant Verma, MD, oncology and nuclear medicine specialist at Scottsdale Medical Imaging (SMIL).
In a review of the impact of PET/CT on organ-sparing treatment of head and neck cancer published in Seminars in Nuclear Medicine, Garg, et al, noted the technology has significant advantages in sensitivity and specificity, in tumor location, target volume and nodal involvement over CT and MRI. With sensitivity in the range of 90 percent to 96 percent for PET/CT with FDG at the primary site, compared to 68 percent to 95 percent for CT and MRI, PET/CT has become the tool of choice for evaluating squamous cell carcinomas of the head and neck. PET/CT is especially valuable in cases where the primary site is not evident amid nodal metastasis.
PET/CT OFFERS BIG BENEFITS
"PET shows us where there is increased metabolic activity and shows the oncologists, surgeons and radiation oncologists where to target," Verma says. "Where the real benefit of PET comes in is with follow-up, specifically mid-therapy response evaluation and post-treatment surveillance. We can see a dynamic change in tumor metabolism throughout all phases of treatment."
But perhaps the biggest benefit for patients is that PET/CT has changed the primary head and neck cancer treatment dramatically from surgery to what is considered organ-sparing treatment, Verma says. He adds that saving patients from surgery means avoiding undesired outcomes of surgery including mortality. While radiation and chemotherapy do have side effects, they are not as severe, Verma adds.
"PET/CT allows us to identify exactly where the bulk of the tumor is and the extent," Verma says, "which helps the medical oncologist and radiation oncologist treat the patient optimally without causing excessive or undue side effect, so the patient walks away healthier, happy and hopefully has a much more rapid and successful recovery." •
REFERENCES:
Garg Madhur, Glanzman Jonathan, Kalnicki Shalom. The evolving role of positron emission
tomography-computer tomography in organ-preserving treatment of head and neck cancer.
Seminars in Nuclear Medicine. 2012;42(5):320-327.