Improvements in Lung Cancer Staging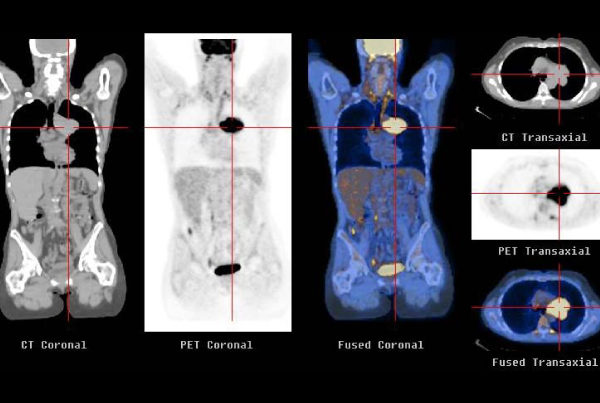 PET/CT affects staging and management of non-small cell lung cancer
In recent years, the development of hybrid positron emission tomography-computed tomography (PET/CT) machines that combine functional and structural imaging information for staging nonsmall cell lung cancer has significantly improved initial staging and produced changes in management that have been associated with better overall survival.
In a recent prospective study published in the Journal of Nuclear Medicine, PET/CT changed management in 69 of 168 patients (41.1 percent). In a study of 76 patients published in Radiotherapy and Oncology earlier this year, survival for stage IIIA who had curative radiotherapy based on PET/CT was greater than 30 percent at four years.
The experience at Scottsdale Medical Imaging (SMIL) mirrors data in the literature, says John Millstine, MD, a radiologist at SMIL.
"If you look at the data, [PET/CT] upstages patients relative to CT about 40 to 50 percent of the time, and it downstages them about 10 percent of the time. In that regard, PET/CT significantly influences management."
The data show that PET/CT probably cuts down on the number of unnecessary thoracotomies by about 20 percent, Millstine says, which translates into a significant improvement in quality of life.
DIGGING DEEPER
Sensitivity and specificity in determining metastatic disease is superior with PET/CT, Millstine says.
"The other thing about PET is that it is very sensitive for the detection of bone metastases," Millstine says. "These patients often have unsuspected metastatic disease to the skeleton that the PET picks up quite frequently. About 10 percent of patients will have bone metastases that the clinicians didn't know about and would alter the original treatment strategy."
Millstine says that at SMIL, PET/CT is a standard technique that is routinely used.
"We do an awful lot of them and we've got a strong team of people who do them," Millstine says. "Our staff is both experienced and caring, which means we do all we can to provide each patient with as good an experience as possible." •
REFERENCES:
Gregory Deborah, Hicks Rodney, Hogg Annette, et al. Effect of PET/CT on management of
patients with non–small cell lung cancer: results of a prospective study with 5-year survival data. The
Journal of Nuclear Medicine. 2012;53:1007-1015.
Mac Manus Michael, Everitt Sarah, Bayne Mike, et al. The use of fused PET/CT images for patient
selection and radical radiotherapy target volume definition in patients with non-small cell lung
cancer: Results of a prospective study with mature survival data. Radiotherapy and Oncology.
2013;106:292-298.