Low-Dose Evaluation of Pulmonary Nodules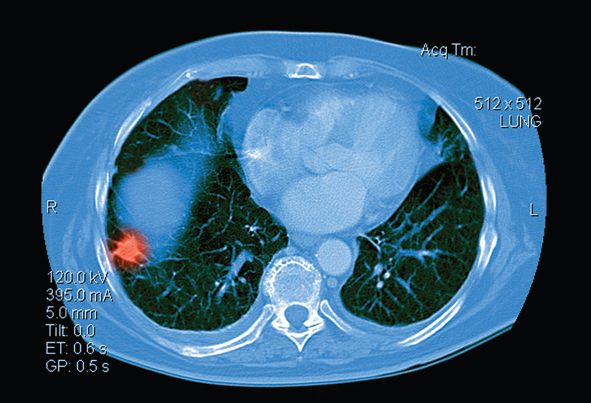 Imaging characteristics and patient history guide nodule work-ups
With advances in imaging, the detection of pulmonary nodules as small as 1 to 2 millimeters in diameter has become routine.
Many nodules, especially granulomas, are densely calcified and benign in appearance, says Christopher J. Salmon, MD, a thoracic radiologist at Scottsdale Medical Imaging Ltd. (SMIL). Others are noncalcified and are therefore indeterminate as to etiology. These nodules require further work-up to determine whether they are benign or malignant.
The work-up of indeterminate noncalcified pulmonary nodules is guided by a combination of imaging characteristics and patient factors, Salmon says.
"If the nodule has a solid appearance and the patient has no prior history of cancer, then the guidelines, based on recommendations from the National Comprehensive Cancer Network, may be used."
As part of SMIL's dose reduction protocol, every effort is made to obtain previous studies to compare nodules. Patient characteristics are also factored in. Patients are considered high-risk if they have a significant smoking history, history of asbestos exposure or a strong family history. In fact, guidelines published in the Journal of the American Medical Association in May 2012 recommended that older, current and former heavy smokers receive annual low-dose CT screenings of their lungs.
"At SMIL, we offer low-dose CT scans to detect nodules in high-risk patients, typically middle-aged smokers," Salmon says. "These scans are done with a much lower radiation dose than traditional diagnostic CTs."
Salmon adds that nodular abnormalities with a nonsolid appearance on CT, referred to as "ground glass" nodules, require a more prolonged course of CT follow-up. •
REFERENCES:
MacMahon Heber, Austin John, Gamsu Gordon, et al. Guidelines for management of small
pulmonary nodules detected on CT scans: A statement from the Fleischner Society. Radiology.
2005:237,395-400.
Bach Peter, Mirkin Joshua, Oliver Thomas, et al. Benefits and harms of CT screening for lung
cancer: A systematic review. Journal of the American Medical Association. 2012;307(22):2418-2429.