Percutaneous Ablation of Renal Masses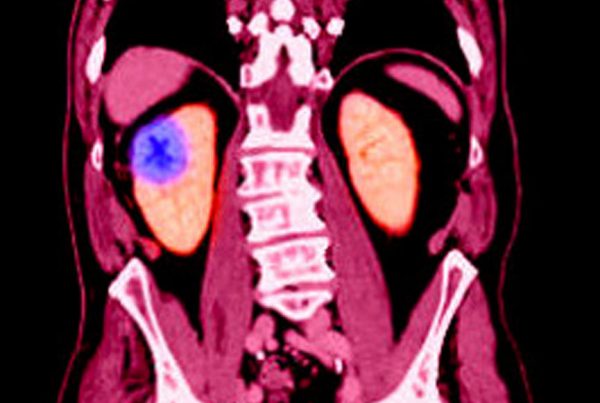 This option for nonsurgical candidates shows low complication rates
Solid renal masses of small size are common and typically discovered as incidental findings on CT or MRI. Treatment options include conservative management and surgical resection. Percutaneous ablation using imaging guidance is also available for non-surgical candidates.
Interventional radiologist Rolf Hultsch, MD, and his colleagues at Scottsdale Medical Imaging (SMIL) recently compiled results of their first 100 renal ablation cases. The research showed that 87 of 92 lesions treated had no recurrence (95 percent) after a mean follow up of 1.7 years, and the overall complication rate has been low.
SMIL results are similar to those published by a group at Washington University School of Medicine and a French group with treatment success rates of 87 percent and 96 percent respectively. These lesions are typically biopsied at the same time as ablation, Hultsch says, and post-treatment imaging is required to ensure complete lesion ablation and no recurrence. "We obtain our first follow-up with CT or MRI at three to six months post treatment, and usually follow patients for five years," Hultsch says.
WHICH PATIENTS CAN BENEFIT?
Ideal lesions for ablation measure about 3 cm or less in diameter and are not immediately adjacent to critical structures including the renal hilum, ureter and bowel.
"In our current practice, essentially all of our referrals come from urologists who have already examined the patients and felt they may not be optimal surgical candidates," Hultsch says. He adds that he and his colleagues at SMIL are often asked about the differences between cryoablation and radiofrequency ablation (RFA). A significant advantage of cryo, he says, is the ability to see the ice ball formation in real time using CT, with a minor disadvantage that each needle
achieves a relatively small ablation volume. RFA offers the ability to achieve a larger ablation zone (not often necessary for renal lesions), but the ablation margin cannot be visualized on CT during the procedure.
"We are always happy to offer an opinion regarding appropriateness and safety of percutaneous treatment," Hultsch says. "We almost always use cryoablation of the target lesion using one to four ablation needles, each about 13 gauge in size. Radiofrequency ablation is appropriate as well and may be preferred by some operators."
SMIL interventional radiologists may be reached at the SMIL IR Clinic at 480-425-4150. •
REFERENCE:
Kim E, Tanagho Y, Bhayani S, et al. Percutaneous cryoablation of renal masses: Washington
University experience of treating 129 tumors. BJU Int. 2013;111(6):872-9. Buy X, Lang H, Garnon J,
et al. Percutaneous renal cryoablation: prospective experience treating 120 consecutive tumors. AJR.
2013;201(6):1353-61.