Adding Quantitative Analysis to Brain Scans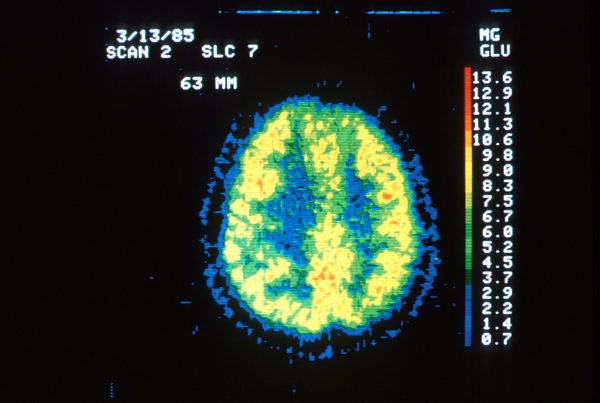 Imaging dementia gets increasingly accurate
A meta-analysis of 119 studies evaluating the role of different modalities, including 27 studies evaluating fluorodeoxyglucose positron emission tomography (FDG-PET) in the diagnosis of Alzheimer's, resulted in a pooled sensitivity of 91 percent (95 percent CI), and specificity of 86 percent (95 percent CI) for FDG-PET.
Accurate interpretation of these studies requires experience in recognition of typical metabolic patterns caused by dementias and of artifacts introduced by image processing. Although visual interpretation is a vital component of image analysis, computer-assisted diagnostic software has begun showing benefits in increased diagnostic accuracy and confidence.
Nuclear Medicine Radiologist John Millstine, MD, of Scottsdale Medical Imaging (SMIL), has extensive experience interpreting FDG-PET brain scans for the whole spectrum of dementia, including Alzheimer's. He says the addition of quantitative analysis software offers a significant improvement over subjective visual interpretation.
"Compared to other PET studies, brain PET imaging can be challenging," Millstine says. "It is nice to have quantitative and statistical analysis to help either reinforce your visual impression, or to draw your attention to more subtle findings that you may have been inclined to dismiss."
SMIL's nuclear medicine department is one of the few practices in the Scottsdale area with five fellowship-trained nuclear medicine subspecialists. They have been assessing quantitative analysis programs for PET scans over the past several years. Millstine says they are currently using MIMneuro® software that employs an array of quantitative analytical tools in an automated comparison of a patient's brain scan to a database of normal controls.
"I think this is something that is going to really improve, and I almost want to say revolutionize, our approach to imaging dementia," Millstine says. "We'll be able to provide very high quality reports with good statistical backing for our diagnoses in a way that is easy for referring physicians to
explain to their patients." •
REFERENCE:
Marcus C, Mena E, Subramaniam R. Brain PET in the diagnosis of Alzheimer's disease. Clinical
Nuclear Medicine. 2014;39(10):414-426.