Identifying Underlying Causes of Hematuria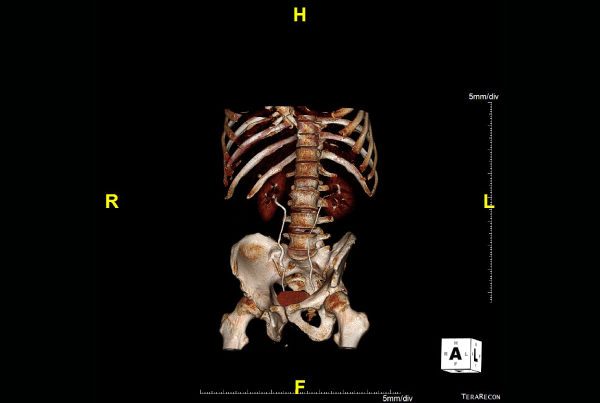 CT urography offers significant advantages over IVP
Imaging plays a crucial role in the investigation of the underlying causes of hematuria, and until recently the primary approach has been IV pyelography (IVP).
In a review of imaging modalities for patients with hematuria in AJR, O'Connor et al, noted that multiphase CT urography offers significant advantages over IVP in sensitivity and specificity, 3D rendering and global evaluation of the entire kidney and collection system, as well as discovery of alternate causes. The major drawback, however, has been the increased radiation dose needed for the examination, but the report concluded that low-dose CT may overcome this drawback.
SMIL provides optimized protocols for patients allowing for dose-saving measures while maximizing the benefits of CT urography, says Jared Allen, MD, PhD, a radiologist at Scottsdale Medical Imaging (SMIL).
"Individuals with hematuria and a history of a known cancer or risk factors for urinary tract cancer, particularly smokers, should be scanned," Allen says. "In general, for any presentation of unexplained hematuria that is not associated with a known pattern of kidney disease, CT urography is the preferred imaging examination."
Allen says that SMIL's dose-saving measures include a hematuria protocol that reduces the number of scans for younger patients, as well as physician monitoring to eliminate unnecessary delayed phases that can accompany multi-phase CT scans.
"For our CT urogram, we do a non-contrast phase using a lower dose," Allen says. "This is followed by a spilt contrast dose that allows for simultaneous evaluation of both the nephrographic phase, that shows us the outer tissue of the kidney, and the excretory phase, highlighting the entire collecting system."
Allen adds that CT urography often catches alternate causes of hematuria. "We can see alternative diagnoses with CT that would never be picked up with conventional IV pyelography," Allen says. •
REFERENCES:
O'Conner Owen, Fitzgerald Edward, Maher Michael. Imaging of hematuria. AJR. 2010;195:263-267.