Molecular Imaging Aids in Presurgical Planning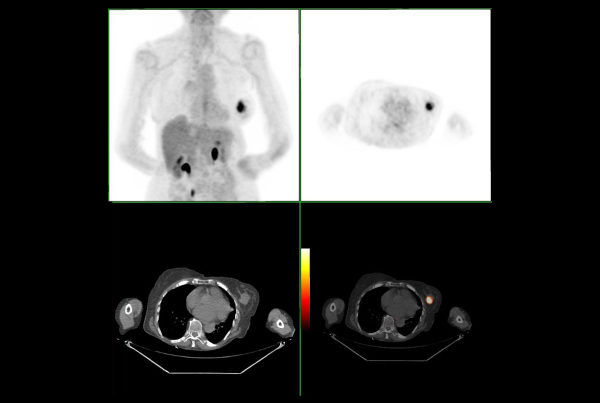 PET and PEM can be used to define surgical margins in breast cancer patients
One goal of molecular imaging is to preoperatively identify breast cancer patients best served by lumpectomy and define surgical margins to potentially decrease the number of second surgeries needed for residual disease.
Positron emission tomography (PET) has been shown to be sensitive and effective in detecting advanced large-tumor breast cancer with distant metastatic disease. In a 2008 review in Applied Radiology, however, numerous studies showed PET's limitations in detecting small, well differentiated tumors and in situ lesions. The researchers concluded that the sensitivity of PET for small tumors needs improvement and does not meet the need for greater accuracy in presurgical planning.
The development of high-resolution positron emission mammography (PEM), designed to image specific small areas of the body, has been shown to be more sensitive in the detection of small tumors. In a 2011 study in the European Journal of Nuclear Medicine and Molecular Imaging, researchers compared PEM with MRI for presurgical planning. They found that PEM and MRI were similar in sensitivity for tumor detection of invasive and in situ cancers.
Christopher May, M.D., an oncology and nuclear medicine radiologist at Scottsdale Medical Imaging, says that PEM and MRI each promise higher sensitivity in breast cancer detection than mammograms, ultrasound or physical examination.
This is especially useful for the small but significant number of breast cancer patients with one or more ipsilateral cancers or precancerous lesions not seen on mammography, he says. For patients with contraindications for MRI, May says that PEM may be an appropriate alternative. "Somewhere between 5 and 15 percent of women either cannot or will not go through the procedure (MRI)," May says. "These patients are easily accommodated by the PEM unit, which contains no magnets and allows imaging in an unconfined, seated position much like a regular mammography unit." •