Interventional Radiology's Role in Pancreatic Cancer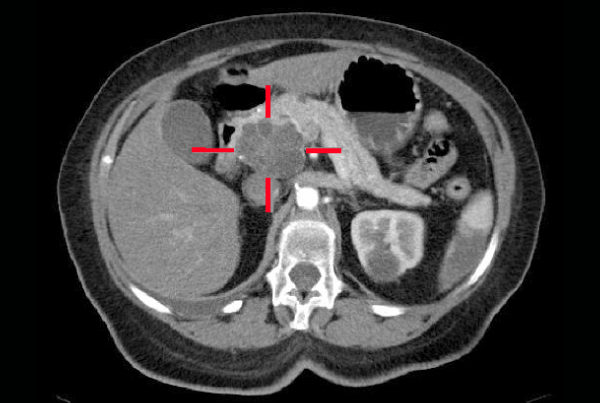 SMIL's services can help improve patients' quality of life
Despite the poor prognosis for pancreatic cancer, interventional radiology can benefit many patients suspected of or diagnosed with the disease.
John Neil, MD, medical director of radiology at Scottsdale Healthcare and chairman of the board of Scottsdale Medical Imaging (SMIL) says that as part of the team that works with Daniel Von Hoff, MD at the Virginia G. Piper Cancer Center, SMIL radiologists see between 50 and 100 pancreatic cancer patients per year. As such, the interventional radiology group at SMIL provides diagnostic, palliative and occasionally ablative therapies to a subset of these patients.
"Most patients we see, we can help," Neil says. "We can help prolong their lives or improve their quality of life, but unfortunately at this time many of these patients aren't curable."
Relieving pancreatic patients of the complications associated with malignant biliary obstruction is an effective palliation that can both improve quality and prolong life. A study published in AJR showed that 73 percent of those treated with percutaneous internal stenting for malignant bile duct obstruction had their percutaneous external biliary drain removed after stenting. Of those, the large majority were catheter-free for their remaining survival.
"In situations where endoscopic drainage is not possible, we do percutaneous transhepatic cholangiography to study the biliary system and confirm the obstruction," Neil says. "Then we have a variety of temporary, and in some cases permanent, in-dwelling bile duct stents that allow appropriate drainage into the duodenum. Where appropriate, we go to great lengths to achieve effective internal stenting so that the terminal patient can live without an external drainage  catheter." •
REFERENCES:
Thornton Raymond, Frank Benjamin, Covey Anne, et al. Catheter-free survival after primary
percutaneous stenting of malignant bile duct obstruction. AJR. 2011;197:W514-W518.